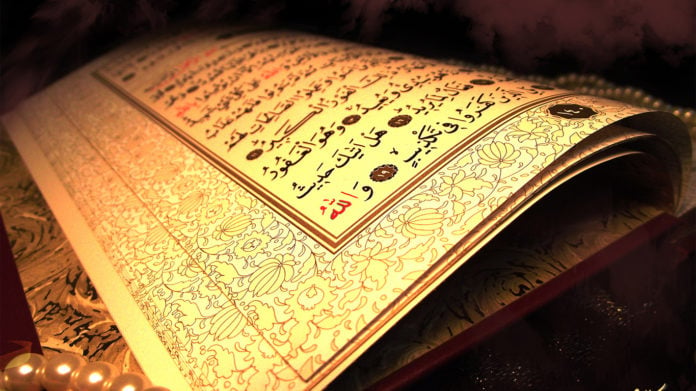 | | | |
| --- | --- | --- |
| | 1) Perish the hands of Abu Lahab, and he will perish! 2) His wealth and all that he has earned will not avail him. 3) He shall soon roast in a flaming fire 4) as will his wife, the wood-carrier, 5) a rope of palm-fibre round her neck. | |
(
NOTE:
If you want to build a strong and powerful relationship with Allah, check out
Islamia TV
, where you can watch Islamic speakers from across the globe deliver inspiring and motivational courses. Learn more at
www.islamia.tv
.)
Abu Lahab was the uncle of the Prophet ﷺ, one of his worst enemies, and one of the people who harmed him the most. He was not religious, and neither did he feel any sense of filial obligation towards the Prophet ﷺ, may Allah disgrace him![1] Allah censured him with this severe rebuke that would be his bane till the Day of Rising. Perish the hands of Abu Lahab, i.e. may his hands waste away and may he be wretched, and he will perish, indeed he did not gain any profit. His wealth and all that he has earned will not avail him, his money and earnings made him iniquitous and will not aid him at all; they will not avert the Allah's punishment when it besets him. He shall soon roast in a flaming fire, enveloping him from all directions, as will his wife, the wood-carrier, she was also someone who harmed the Messenger of Allah ﷺ greatly.[2] Her and her husband aided each other in sin and transgression, and they did all they could to harm him ﷺ. Her sins have collected on her back, weighing her down, in the same way as a wood-carrier piles wood on his back, binding them with a rope of palm-fibre around his neck. The meaning could also be that she will actually carry wood to fuel the fire burning her husband with a rope of palm-fibre round her neck."
Whatever the case, this Surah contains a clear miracle from Allah. Allah revealed this Surah before Abu Lahab's death and his wife's death. He informed them that they would roast in the Fire, which necessarily means that they would never accept Islam. This is what happened, exactly as the Knower of the unseen and seen informed us!
---
Endnotes

1. Bukhari recorded from Ibn `Abbas that,
" The Prophet ﷺ went out to the valley of al-Batha and ascended the mountain. Then he cried out,

O people, come at once!

So the Quraysh gathered around him. Then he ﷺ said,

If I told you all that the enemy was going to attack you in the morning, or in the evening, would you all believe me?

They replied,

Yes.

Then he ﷺ said,

Verily, I am a warner to you all before the coming of a severe torment.

Abu Lahab said,

Have you gathered us for this? May you perish!

Then, Allah revealed,

Perish the hands of Abu Lahab, and he will perish

to the end of the chapter.
Ahmad recorded from Abu al-Zinad that,
| | | |
| --- | --- | --- |
| | " A man called Rabi`ah ibn `Abbad from the tribe of Bani al-Dil said to him, I saw the Prophet ﷺ in the time of pre-Islamic ignorance in the market of Dhul-Majaz and he was saying, O people! Say there is none worthy of worship except Allah and you will be successful. The people were gathered around him and behind him was a man with a bright face, squint eyes and two braids in his hair. He was saying, He is an apostate and a liar! This man was following the Prophet ﷺ wherever he went. I asked who he was and the people replied, This is his uncle, Abu Lahab. | |
2. Ibn Kathir: Ibn Abi Hatim reported that Asma bint Abu Bakr said,
" When

Perish the hands of Abu Lahab, and he will perish!

was revealed, the one-eyed Umm Jamil bint Harb came out wailing, carrying a stone in her hand. She was saying, He criticizes our father! We scorn his religion, we disobey him! The Messenger of Allah ﷺ was sitting in the Masjid with Abu Bakr. When Abu Bakr saw her he said, Messenger of Allah ﷺ! She is coming and I fear that she will see you. The Messenger of Allah ﷺ replied, She will not see me. Then he recited some of the Quran as a protection for himself. This is as Allah says,

And when you recite the Quran, We put between you and those who believe not in the Hereafter, an invisible veil. (17:45)

She advanced until she was standing in front of Abu Bakr but she did not see the Messenger of Allah ﷺ. She then said, Abu Bakr! I have been informed that your friend is composing defamatory poetry about me. Abu Bakr replied, No! By the Lord of this House, he is not defaming you. So she turned away saying, The Quraysh know that I am the daughter of their leader.
(
NOTE:
If you want to build a strong and powerful relationship with Allah, check out
Islamia TV
, where you can watch Islamic speakers from across the globe deliver inspiring and motivational courses. Learn more at
www.islamia.tv
.)